Iranian Film Screening Mastermind & Once A Woman -شب فیلم ایرانی
November 11, 2019 @ 12:00 am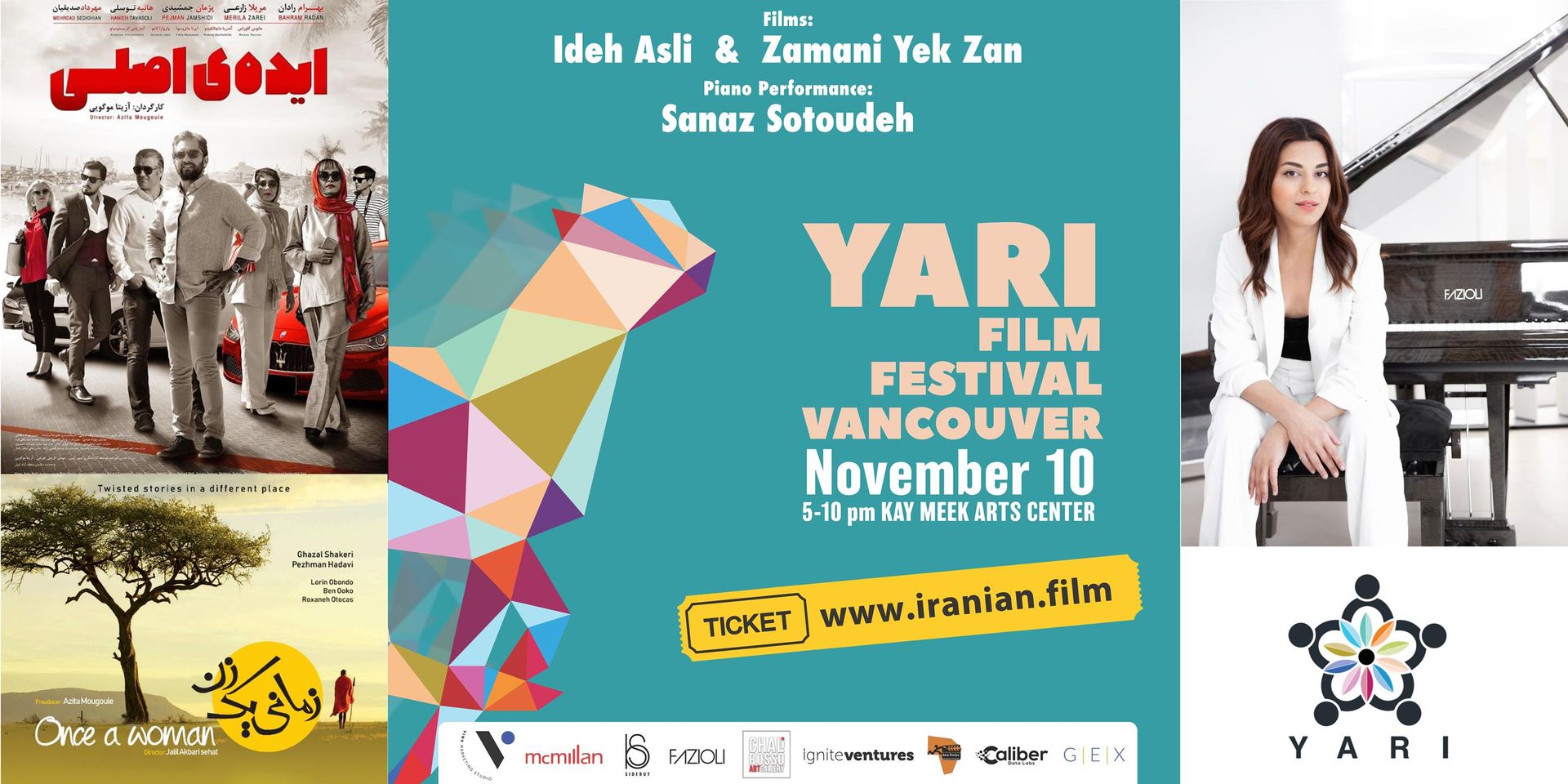 انجمن فیلمهای ایرانی ونکوور و بنیاد خیریه یاری با افتخار تقدیم میکنند
***نمایش ۲ فیلم جدید ایرانی به نفع دانش آموزان بی بضاعت در ایران***
کودکان امروز سرزمینمان امید فردای ما هستند. با حضور خود در برنامه و یا به اشتراک گذاشتن این پست شما هم در این امر خیر سهیم شوید.
*****************************************************************
این جشنواره امسال برای اولین بار در کانادا و با هدف حمایت از خیریه یاری برگزار می شود. تاریخچه جشنواره فیلم یاری به سال ٢٠٠٠ میلادی در کشور سوئد برمیگردد که جمعی از نیکوکاران ایرانی- سوئدی با هدف بزرگداشت سینمای ایران و جمع آوری کمک هزینه برای دانش آموزان در ایران اولین رویداد فیلم یاری را برپا کردند. هرساله مهمانان شناخته شده از سراسر جهان، شامل کارگردانان و بازیگران فیلم ها، با مشارکت در کار خیر در کنار هم به تماشای بهترین فیلم های روز سینمای ایران می نشینند.
در مورد خیریه یاری:
ماموریت خیریه یاری ایجاد فرصت ادامه تحصیل برای کودکان آسیب پذیر از نظر اجتماعی و اقتصادی در ایران است. این کودکان که عمدتاً در معرض خطر ترک تحصیل قرار دارند، از طریق دریافت حمایت مالی می توانند دوره آموزش خود را به پایان رسانده و در نتیجه زندگی و آینده بهتری داشته باشند. تا کنون خیریه یاری با کمک ایرانیان عزیز، ٣ مدرسه در ایران ساخته و سرپرستی ۱۰۰۰ کودک را برعهده دارد.
از مهمترین ویژگی های خیریه یاری، شفافیت در زمینه کاری، اقتصادی و پیگیری رشد تحصیل کودکان است. همچنین، اقدامات مالی این بنیاد توسط سه حسابرس مستقل کنترل می شود.
*****************************************************************
Yari foundation and Vancouver Iranian Film present:
Screening two Iranian movies at the prestigious Kay Meek Arts Centre in West Vancouver, BC.
This event is the inaugural film festival for Yari Foundation in Canada and all proceeds go to support the education of schoolchildren in Iran.
Yari Film Festival has been running for 20 years in Sweden where it was born out of a grassroots movement by a group of caring Iranian-Swedes. The event has grown from humble beginnings to become the largest Iran-focused film festival in Europe with more than 45000 Swedes in attendance since the start. Every year, more than 15 films draw large crowds as well as film stars from across Europe, Iran and the world. This year our proud Iranian-Canadian community will help Yari to celebrate its twentieth anniversary in style by screening two films, Mastermind and Once a Woman.
About Yari Foundation:
Yari foundation provides a monthly scholarship to those socially and economically marginalized children in Iran to continue their education, thus giving them a chance to fulfil their own potential and create a future for themselves. Yari&#39,s founding principles are transparency, data driven decision-making and passing 100% of donations to the schoolchildren. Every cent donated by our community is passed through to children. These donations are traceable from start to finish using our data driven and technology-powered operations. Yari has been approved by the Swedish government&rsquo,s 90 account, an honor that only the most effective charities can achieve. Yari currently supports 1000 students and with your contribution, plans to fund 5,000 students per year by 2023.